Flu Shot Clinic
Get the flu shot before the flu gets you! Come to the best urgent care clinic in Clarkston, MI. Our doctors & medical staff treat patients of all ages. For more information, please

call us

or simply walk-in! We serve patients from Clarkston MI, Waterford Twp MI, Oxford MI, Ortonville MI, Lake Orion MI, Pontiac MI, Springfield Township MI and Auburn Hills MI.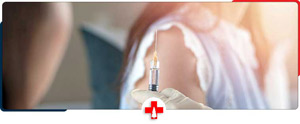 When flu season hits, you know how important it is to take extra precautions to avoid getting sick. The flu is one of the most common viral infections and can lead to a miserable state, days away from work or school, and for some, even a trip to the hospital. At Pine Knob Urgent Care, we are proud to offer flu vaccinations for patients in the Clarkston, MI area. Rather than hoping you don't come into contact with someone carrying the flu virus, take a proactive step toward keeping your family safe by getting your flu shot today.
The most common signs of the flu include a fever, coughing, chills, and overall exhaustion and malaise. Most people will also have a head ache, body ache, and some may even experience nausea and diarrhea, though these last two are far less common in adults than in children. Once you have the flu, there is not much you can do except wait it out. While over the counter medications can treat symptoms and antiviral medication may be able to shorten the amount of time you are sick, there is no avoiding at least a few days of recovery. Most importantly, people with the flu should focus on getting plenty of rest and increasing their fluid intake to avoid dehydration.
When you have the flu, you miss out on important meetings at work and time with family and friends, so why not do everything you can to avoid it in the first place? Flu vaccines are the best possible way to ensure you don't get sick during flu season. Recovering from the flu can take days out of your busy schedule, so rather than suffering through the uncomfortable fever and pains of the flu, avoid it all together by ensuring you get your flu shot as soon as possible. At Pine Knob Urgent Care, we offer our patients access to the flu shot without the need for an appointment. Our convenient walk-in clinic means you can get the flu shot when it works best for your busy schedule.
The flu vaccine has been used for years and it has been proven to be effective and safe for use in children, adults, and seniors. For young and old, especially, a flu vaccine can be extremely helpful in avoiding complications from the virus. A flu vaccine is recommended for everyone who is healthy enough to receive one, and the experienced doctors at Pine Knob Urgent Care are proud to offer this service to help protect our patients and their loved ones. Our walk-in clinic is open 7 days a week and on holidays, so that we can offer the highest quality of medical care to families in and near Clarkston, MI. We believe in providing comprehensive urgent care services that can help you and your family stay happy and healthy all year long.
Protect yourself, your family, and your community this flu season by taking advantage of Pine Knob Urgent Care's flu shot clinic. We are proud to offer flu shots to patients at our convenient walk-in clinic in Clarkston, MI, so you can avoid getting sick and spend more time enjoying your days with family and friends. Call to schedule an appointment, or simply walk in 7 days a week.